Credits
Thanks to all GUM contributors!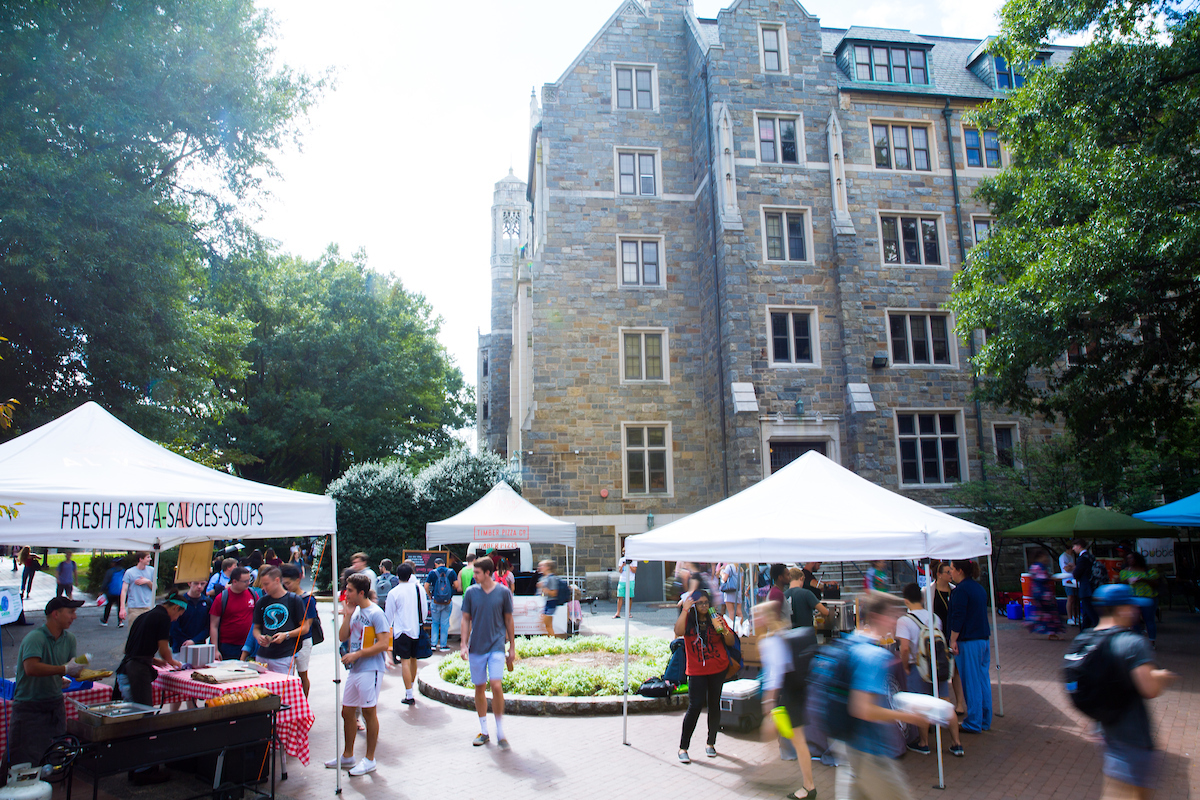 GUM was created and continues to be expanded thanks to the hard work of classroom annotators, many of which are listed below in recognition of their contributions! Annotations are contributed under a Creative Commons attribution license (anonymously if requested) and are re-used from year to year for class projects at Georgetown. If you are using GUM for academic papers, please make sure to follow the citation guidelines in recognition of this work.
Significant corpus editing has been contributed by members of the Corpling@GU lab, and in particular by graduate students working as TAs for LING-367. Special thanks are due to Dan Simonson, Emma Manning, Sean Simpson, Luke Gessler, Siyao Peng and Lauren Levine for substantial editing work, and to Janet Liu for extensive work on the discourse parsing component of the corpus, to Nitin Venkateswaran for work on the date and time annotations, and Yi-Ju Lin and Yilun Zhu for work on the entity linking and entity salience annotations.
We would also like to thank Jack DuBois for making data from the Santa Barbara Corpus available for annotation, and authors of Creative Commons publications for making their data freely available on the Internet.
Gum annotation team (so far - thanks for participating!)
Adrienne Isaac
Akitaka Yamada
Alex Giorgioni
Alexandra Berends
Alexandra Slome
Amani Aloufi
Amber Hall
Amelia Becker
Andrea Price
Andrew O'Brien
Anna Runova
Anne Butler
Arianna Janoff
Aryaman Arora
Ayan Mandal
Aysenur Sagdic
Bertille Baron
Bradford Salen
Brandon Tullock
Brent Laing
Calvin Engstrom
Candice Penelton
Carlotta Hübener
Caroline Gish
Charlie Dees
Chenyue Guo
Chloe Evered
Colleen Diamond
Connor O'Dwyer
Cristina Lopez
Cynthia Li
Dan Simonson
Derek Reagan
Didem Ikizoglu
Edwin Ko
Emile Zahr
Emily Pace
Emma Manning
Ethan Beaman
Felipe De Jesus
Han Bu
Hana Altalhi
Hang Jiang
Hannah Wingett
Hanwool Choe
Hassan Munshi
Helen Dominic
Ho Fai Cheng
Hortensia Gutierrez
Jakob Prange
James Maguire
Janine Karo
Jehan al-Mahmoud
Jemm Excelle Dela Cruz
Jess Godes
Jessica Cusi
Jessica Kotfila
Joaquin Gris Roca
John Chi
Jongbong Lee
Juliet May
Jungyoon Koh
Katarina Starcevic
Katelyn Carroll
Katelyn MacDougald
Katherine Vadella
Khalid Alharbi
Kristen Cook
Lara Bryfonski
Lauren Levine
Leah Northington
Lindley Winchester
Linxi Zhang
Lucia Donatelli
Luke Gessler
Mackenzie Gong
Margaret Anne Rowe
Margaret Borowczyk
Maria Stoianova
Mariko Uno
Mary Henderson
Maya Barzilai
Md. Jahurul Islam
Michael Kranzlein
Michaela Harrington
Minnie Annan
Mitchell Abrams
Mohammad Ali Yektaie
Naomee-Minh Nguyen
Negar Siyari
Nicholas Mararac
Nicholas Workman
Nicole Steinberg
Nitin Venkateswaran
Parker DiPaolo
Phoebe Fisher
Rachel Kerr
Rachel Thorson
Rebecca Childress
Rebecca Farkas
Riley Breslin Amalfitano
Rima Elabdali
Robert Maloney
Ruizhong Li
Ryan Mannion
Ryan Murphy
Sakol Suethanapornkul
Sarah Bellavance
Sarah Carlson
Sasha Slone
Sean Macavaney
Sean Simpson
Seyma Toker
Shane Quinn
Shannon Mooney
Shelby Lake
Shira Wein
Sichang Tu
Siddharth Singh
Siyao Peng
Siyu Liang
Stephanie Kramer
Sylvia Sierra
Talal Alharbi
Tatsuya Aoyama
Tess Feyen
Timothy Ingrassia
Trevor Adriaanse
Ulie Xu
Wai Ching Leung
Wenxi Yang
Wesley Scivetti
Xiaopei Wu
Yang Liu
Yi-Ju Lin
Yifu Mu
Yilun Zhu
Yingzhu Chen
Yiran Xu
Young-A Son
Yu-Tzu Chang
Yuhang Hu
Yunjung Ku
Yushi Zhao
Zhijie Song
Zhuosi Luo
Zhuxin Wang
Amir Zeldes
...and other annotators who wish to remain anonymous!